VoIPFutura Configurations
The configuration flexibility of the VoIPFutura products allow its adaptation to different environments and voice over IP corporate communications cases.
Each project requires a previous analysis to measure the extent of the required solution, based on the customer's requirements. It is not the same having an IP PBX in a company with a single site and few terminals, or with many terminals. Or a distributed environment with multiple sites interconnected. It is not the same having a domestic map or international sites. And you also might want to keep your old proprietary PBX and add VoIPFutura working in tandem to provide the advantages of the features provided by an IP PBX; i.e., convert your old switchboard in a powerful and innovative IP PBX.
The preliminary study of the project and its requirements will determine the choice of version VoIPFutura Micro o VoIPFutura Core, based on the hardware used and the power required to meet your demands. After selecting the product, it can be configured by our staff for its  performance in one or more of the following configurations: SINGLE, MULTI and ASSISTANT.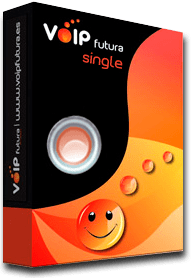 It is the default settings for VoIPFutura, especially in new installations.
It is used for companies or businesses that have only a venue, providing service to multiple terminals and connections to different types of lines.
Depending on the needs of the company, the types of required connections, the number of terminals and required functionality (for example, recording of calls and locutions, etc) will opt to use the basic VoIPFutura Micro or the most complete version VoIPFutura Core (see comparative table of features)
VoIPFutura SINGLE-mode configuration is a scalable solution that can grow in the future and configured as MULTI, in the case that the growth of the company so require it.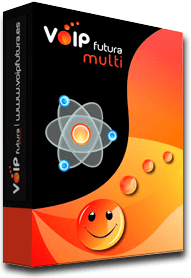 VoIPFutura MULTI or multi-site is the ideal solution for distributed environments where you can combine advanced features to achieve a significant cost savings in your calls. With this configuration you can configure your distributed voice network flexibly according to your specific needs.
With VoIPFutura multi-site you can manage your network centrally even if offices have local links, resulting in the optimization of costs. This VoIPFutura setting will allow you to both set up its current network as incorporate new offices, telecommuters and even mobile users making the most of the advantages than the different local providers offer both to connect offices as to gain access to your voice network.
Any user on your network will have geographical mobility so his extension will always be accessible.
Centralized management of all your sites telephony allows you to monitor all the services, as well as to make the configuration changes you need from a unified, simple and quick way.
VoIPFutura MULTI, in turn, and depending on the location of the headquarters of the company, can be configured in two ways:
MULTI-N Mode (domestic environment)
MULTI-I Mode  (international environment)
Optimization of costs in international environments is very significant, providing the possibility of adding applications and functionality that will make the communication tasks to your international working groups easier.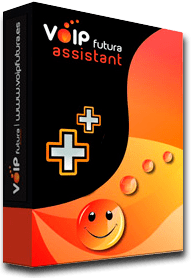 VoIPfutura ASSISTANT is a specific VoIPFutura configuration oriented to add IP functionality to the proprietary PBX and call centers of large and medium-sized corporations that already have traditional switching technology-based infrastructure, without having to replace it.
With this configuration you will provide all the power of a latest generation IP PBX to your old switchboard, with a much lower investment than if you add these features to your traditional PBX.
In large PBX with a high number of extensions the cost of replacing terminals often exceed the cost of replacing the switchboard. With VoIPfutura in ASSISTANT mode both technologies can co-exist and you can plan the migration of your extensions according to your needs, without traumas, and also you can easily see the fast amortization that your investment in VoIP technology will provide you.
The interconnection of VoIPfutura in ASSISTANT mode with your PBX is done through interfaces FXO/FXS/QSIG (communication between PBX, call routing between PBX) and supported by any standard PBX.
You can make calls between your new IP extensions and your analog or digital existing terminals, in a transparent manner for the users.
Once you have the platform available on your network, the incorporation of a new site (upgrade to configuration in MULTI mode), the enlargement of extensions, the incorporation of mobile users or any other network growth choice will occur in a manner more rapid, efficient and flexible than those offered by traditional PBX.
IVR, Fax2Mail, Call Center, Telepresence, automated surveys and many others are available in VoIPfutura ASSISTANT by default (see features table).
VoIPfutura ASSISTANT provides statistical information that can be integrated with most of your corporate information systems (ERP´s, CRM´s, Data Bases, proprietary applications…) in a simple way, allowing you to optimize your internal processes.
In situations where the available switchboards are old or requiring large costs for expanding features (or extensions), VoIPfutura ASSISTANT allows you to incorporate functionality and complete VoIP applications (IP geographic lines, voice mailbox, call recording, presence, fax without papers, call control, statistics, etc…) to your old PBX.