VoIPFutura EcoLite
DescriptionFeaturesFunctionalitiesInformation request
Description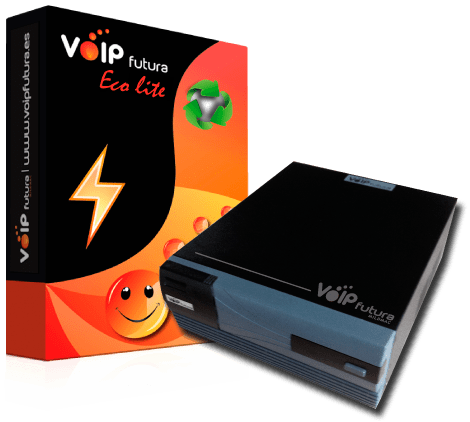 VoIPfutura EcoLite is a product designed for those who want a simple implementation and rapid deployment. It is based on a phone platform that can make and receive calls using IP lines, with the consequent saving in the cost of calls and low cost in hardware and configuration, since it does not have phone cards. Also, if you want it can be used with free distribution software phones which are installed on the PC.
A solution for small deployments and rapid addition of new offices, taking full advantage of the powerful features of the VoIPFutura product family, with easy growth capacity and maximum flexibility in the configuration of your network from the beginning.
All this makes VoIPfutura EcoLite a solution oriented to those corporations or remote centers who need a fast start up.
With VoIPfutura EcoLite, you will have all the basic services of a switchboard routing all traffic input and output over IP lines. You can also use PSTN links (traditional basic telephone network).
Make the most SoftPhone technology so users can quickly and cost effectively use their computers as voice terminals. If you wish you can use IP phones as terminals for voice, being able to choose from a wide range.
The investment is guaranteed since the platform will never be obsolete and may expand it according to your needs without incurring costs of licenses.
Any user with access to the Internet and with the SoftPhone software will connect to your network as if in the office with a quality that will surprise you.
Features
Eco-friendly
Low consumption (10W)
It does not generate noise (solid state technology. You do not need fan)
Negligible heat dissipation 
Small dimensions- 20 cm x 24 cm x 8,5 cm
Standard hardware- Integrates the best compatible hardware
Stand-alone operation- Does not require connection to internet or the cloud for operating.
Scalable –High performance and the ability to grow without limit as the rest of VoIPFutura products
Very economical- Minimum investment with maximum performance and powerful features
Functionalities
The EcoLite PBX hardware limits some of the standard VoIPFutura features, in particular, those that require a thorough use of the processor and overload the machine. Features such as the recording of calls, real-time monitoring and voice mail messages are not present in the EcoLite version, but without forgetting the rest of possibilities for VoIPFutura.
In return, you have a hardware for rapid deployment and easy integration.
Information request
Information request
For any commercial enquiries or pre-sales, please, call +34 91 501 33 02 or fill in this form.
We will contact you as soon as possible: