VoIPFutura ROIP Rescue
DescriptionFeaturesInformation request
Description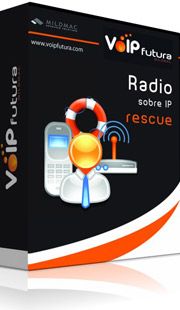 VoIPFutura ROIP Rescue is a product with RoIP (Radio over IP) technology oriented to emergency and rescue both in maritime and earth environments. VoIPFutura RoIP Rescue will allow you the transmission and processing of information and coded emergency signals.
VoIPFutura RoIP Rescue as well as transmit voice and allow their treatment in management centers, will allow you the transmission and processing of information and codified emergency signals, both of them sent by remote devices (scheduled event sensors detection) or manual action responding to a generated event (pressing an alarm button in case of fire on a ship, for example).
Features
VoIPFutura ROIP RESCUE is able to receive, decode, and process emergency (or other) encoded signals allowing:
Catalog the event
Send it to ROIP web control panel
Facilitate its interpretation automatically or by operator
An example of application are the maritime emergency services: Imagine a ship generates an  alarm call with the standards established for each alarm. Very diverse situations, from a fault in machines up to a fire on Board may occur. Each of these events shall transmit the relevant information: name of vessel, type of alarm, coordinates, date, time, etc…) This information is issued by the ship radio and picked up by receivers of coastal radio, processed, identified and passed to systems of distribution and agents to generate the appropriate actions.
Information request
Information request
For any commercial enquiries or pre-sales, please, call +34 91 501 33 02 or fill in this form.
We will contact you as soon as possible: