VoIPFutura ROIP Multi
DescripciónFeaturesInformation request
Descripción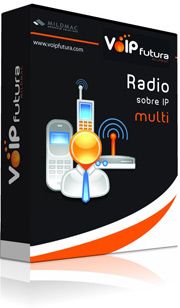 VoIPFutura RoIP Multi is a phone-radio integrator system. It is designed as an evolution of the switching matrices (Radio Dispatching) incorporating new technologies such as voice over IP (VoIP), Radio over IP (RoIP) and Web.
It is a product that can integrate several radio stations and manage them unified through a Web-based control panel. It is a complete solution with which it is possible to implement your radio activity control center.
Oriented, but not limited, to control and emergency centers with multiple agents that have the need to share and control different radios, both local as remotely, as well as make use of the telephone network for the coordination of the work.
With VoiPFutura RoiP MULTI you can attend, focus, manage, route and share radio voice systems communications in geographically distributed environments.
From the control station and through a "die" in your Web browser you can activate or disable stations, select one or more base stations, set their status, monitor the traffic, record, listen to the recordings, talk with each one of them or several at a time, etc.
It is oriented to professional environments in which you want to provide switching and management to your radio communications capacity. The areas of application are multiple: services of emergency, maintenance services, security services, warehouses, ambulances, etc.
VoIP Futura RoIP MULTI allows you to unify the management of multiple radio bases through a Web-based control panel. You can participate and manage the conversations of your radio network from any geographic location.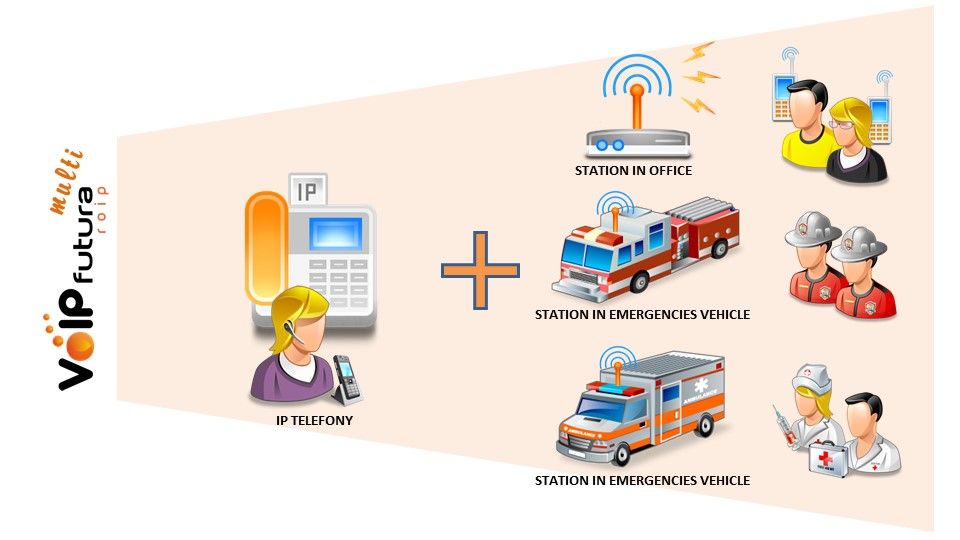 The investments you have already made will be guaranteed, offering a proven, powerful technology that should be considered in your new network projects. The integration of Radio and voice over IP with VoIP future RoIP MULTI technology, will allow you to design new services as well as to optimize your resources and existing processes.
All of these features are made possible by the RMBM RoIP Multi Base Management, our radio stations switching matrix, which is the heart of the VoIPFutura RoIP MULTI platform: it manages and controls all devices and serves operation panel as working interface for platform operators and administrators.
The integration between the different stations, Radios and VoIPFutura (IP PBX) switching matrix is done through the RGA (RoIP Gateway Adapter) (see RoIP basic).
The control Panel for the operators is presented through a Web interface and allows the product operation, so it can be used by an operator or administrator, local or remote.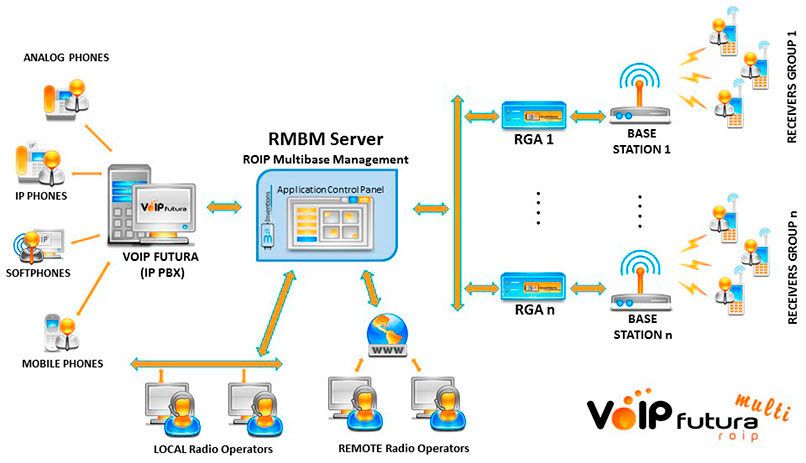 Advantages of  VoIPFutura RoIP Multi technology
Network infrastructure simplification and reusing of the Control and Management Centers
infrastructures.
Access to geographically dispersed networks, through RoIP connections by Internet/WAN.
Savings in cost and complexity. It allows the replacement of Radio links for IP connections.
Relocation of operators and fast implementation of temporary control centers (in situations of crisis, for example).
Integration with IP telephony. Cost savings in infrastructure to communicate with Radio equipment in the field.
Less specific hardware requirements. Cost savings and simplicity.
Features
Among other features, our system is different from the rest of the products on the following aspects:
Main features and functionalities
Reception and transmission by one or multiple radios simultaneously for each operator.
Sharing of the same station by several operators. Simultaneous use of radio systems between
multiple operators.
Activation and deactivation of stations by means of a simple "click"
Selection of one or more base stations
Transparent use of local or remote radios
Reception, treatment and presentation of signals emitted by mobile units.
Recording and listening to conversations of the radios. Recording of receptions and transmissions and search and playback system.
Immediate access to the recordings of the last transmissions of each indicative.
Operator control post, through VoIP and Web interface, allows the relocation of operators without losing any control function
Technical and economic scaling. From one to the exact number of agents you need in your
Dispatching Center
Vehicle tracking module, which receives and stores the GPS positions transmitted by mobile radio equipment (must enter a GPS module) and presents them in a map for follow-up.
Address book. — Associate numbers with names to facilitate identification of the different mobile units.
Last calls and associated data listings (time, identification of the radio, ANI, etc.)
Monitoring of the system by a display of parameters and system alerts interface.
Built-in IP and PSTN telephony platform.
Treatment of emergency messages and cataloging of events.
Etc.
Differential features
Powerful management system for recordings, from your own Web application (console)

Recording of reception/transmission with search and playback system for the latest broadcasts.
Allows you to instantly find any conversation by different criteria (ANI, operator, etc.) playing it directly when needed.

Technical and economical scaling. Scalable solution that allows to start just by what is needed.
Operation consoles (dispatching):

Application for operation and management based on Web technology which allows the easy relocation of agents, deployment of new control centers, simplification of network infrastructure and total flexibility.
Voice post: agents may use such as voice equipment a Softphone, an IP phone or directly using a web console integrated Java Applet (built-in)

API for integration to third-party applications (e.g., incident management systems).
Via the
Control Panel
, the system administrator will perform the necessary
configuration actions
:
Management of radio devices
Monitoring the use of the system resources (cpu, memory, disk, etc.)
User and permissions management.
Rules
Operator position management
Warnings and alarms programming
etc.
VoIPFutura ROIP Multi Control Panel Screens
ARCHITECTURE
STATION
It is the radio that connects to devices assigned to its frequency.
RGA (ROIP GATEWAY ADAPTER)
A device that connects and physically controls a radio station with the central system via RoIP and
under the orders of RMBM (Roip multi-Base Management). Low power consumption allows being
powered by batteries.
INTEGRATOR / RADIO DISPATCHER
Central server which interconnects the operators, radios and telephony. It provides the integration
functions for audio, VoIP, RoIP, recording transmissions, etc. It is based on the RMBM (ROIP MULTI BASE MANAGEMENT), which is the heart of ROIP MULTI platform. It manages and controls all devices and serves as operation panel interface for operators and administrators of the platform.
VOIP PBX
It is the switchboard, which allow the exit to the outside world of the stations and connect standard
calls with several integrated radio stations. The communication between the ROIP platform and VOIP
switchboard will be via SIP or IAXS protocols.
OPERATOR ROIP MULTI / RADIO DISPATCHER
It is the person (or people) that interacts with the platform via the WEB operation panel.
OPERATION PANEL (via WEB interface)
It is the application interface that manages the operation of the product. From this panel it is possible
to monitor several radio stations, connect with them, record and identify conversations, etc.
Information request
Information request
For any commercial enquiries or pre-sales, please, call +34 91 501 33 02 or fill in this form.
We will contact you as soon as possible: