VoIPFutura ROIP Basic
DescriptionFeaturesInformation request
Description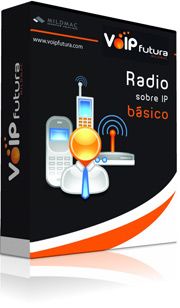 VoIP Futura ROIP will allow you integrating your Radio terminals (walkies) with VoIP Futura as if it were another IP extension.
With VoIP Futura ROIP technology (Radio Over IP), the integration of your radio stations and radio terminals with your PBX allows that any IP extension of your network can participate in radio conversations of an specific radio group, wherever they are.
To this end, it is only necessary to install and integrate our RGA (RoIP GateWay Adapter), which is the device that enables the integration between these two worlds, as one extension of VoIP Futura. This integration can even be carried out via the Internet.
Connecting VoIPFutura RoIP Gateway Adapter (VoIPFutura RGA) to a radio station of your network, you will get integrated VoIP communications with the radio. You can incorporate phones into the radio conversations (if the PBX allows to directly call an extension through an IVR).
From any phone, you can participate in the radio group conversation as if you were right in front of the radio connected to the Gateway. Depending on your PBX (or contracted service), you will be able to make telephony configurations taking advantage of the voice service facilities offered to you (recordings , transfer to another phone conversation, etc …). Depending on the type of radio connected VoIPFutura RGA allows you to have other advanced features, such as calling any telephone from the radio.
This technology is aimed at providing solutions in professional environments where staff are available equipped with this type of terminals (emergency services, maintenance services, security services, warehouses, ambulances, etc.)
VoIP Futura RoIP Basic provides the necessary integration in a robust and economically manner. You can integrate as many RGA devices as you want with VoIP Futura, with competitive costs. VoIP Futura RoIP Basic is just oriented to integrate Radio and Telephony technologies, not for management.
For those environments where the integration of several stations giving the system switching capacity (Switching Matrix, Dispatching Server) between transceivers and system management is desired, we offer VoIP Futura RoIP Multi.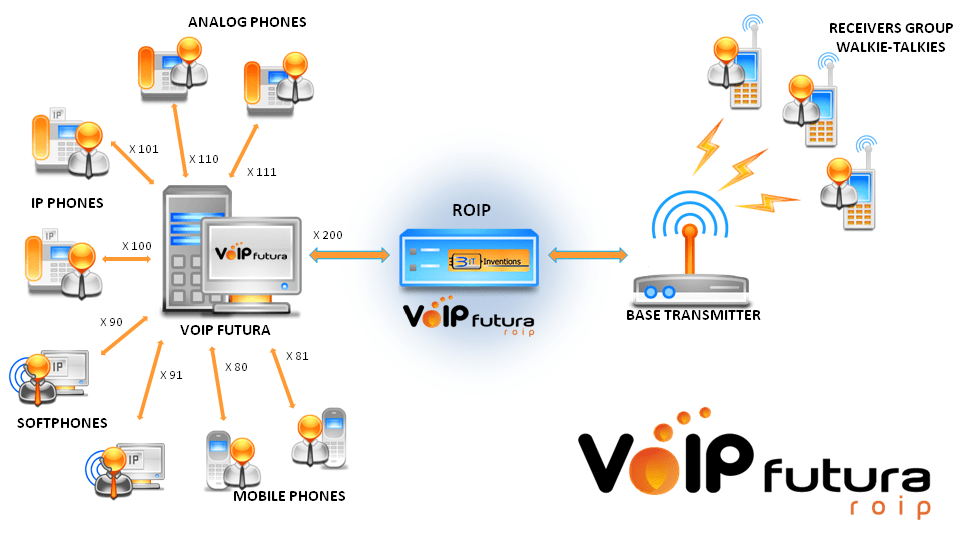 Features
The possibilities offered by this powerful integration technology between telephony and radio worlds are huge and its application can accommodate any production environment.
Some of the most interesting features offered by VoIPFutura RoIP Basic are:
The RGA (RoIP Gateway Adapters) can be connected to the IP PBX (VoIP Futura) over the Internet, integrating the terminals traffic of a radio station with the PBX.
Configuration of device parameters via Web interface (carrier sense, network configuration,  parameters for integration with IP PBX / VoIP Service hired …).
The integration the gateway provides allows access to radio as simple as dialing an extension and participate in the talks as if we had a radio terminal in our hands.
VoIPFutura allows making calls between PBX extensions and integrated radio stations via SIP or IAX protocols.
PTT radio remote control from any DTMF telephone, via configurable keyboard. The PTT (Push to Talk) functionality from our IP phone is activated simply by pressing two keys.
VAD (Voice Activity Detection) with adjustable sensitivity. Automatically activates the radio PTT when speech is detected on the phone involved in the conversation. This function can be activated at any time (in not too noisy environments) so that the operator of IP phone does not have to press any key to engage in conversation radios.
Carrier Detect or by digital radio signal detection or adjustable power (Squelch).
It is possible to establish talks between SoftPhones, Skype terminals, mobile phones … and the radio terminals.
Being terminals like any other VoIPFutura extension you can take advantage of the powerful functionality it offers to deal with voice trafficking: recording conversations, call transfer…
Configurable locutions to warn both the radio and the telephone, different communication phases (communication establishment and finalizing, etc.).
Depending on the type of radio terminal and the transceiver (base station) could initiate calls from the radio terminals and achieve communications between the terminal and the extension of the PBX.
Messaging System (Optional, not included by default, and only available in Kenwood Radios operating in digital mode). From each of the various events (emergency, help ..) that can be programmed and sent from radio devices, emails are automatically generated. The multipath configuration allows associate each type of event with one or multiple recipients.
Base integration
Connecting to microphone, speaker and PTT (Push To Talk)
Integration valid for any Kenwood, Motorola and ICOM brands radio model, as well as other radio models that have documented external connections.
VoIPFutura RGA comes with a cable adapted to the most common models.
VoIPFutura RGA comes with pinout documentation as well as other features necessary for customizing cable (not standard models).
Advanced integration
Depending on Radio models and the possibility of integration of VoIPFutura RGA with their control protocols, the following advanced features developed may be used:
Making calls from Radio terminals to any phone of your voice network.
Ending calls from Radios, sending configurable code.
Configuration of emergency calls from radio terminals
(1) These features are currently available in the case of Kenwood Radios. Scope of mentioned capabilities require that radios have programmable buttons. For the rest of brands, these features will be available soon. With the delivery of Gateway technical documentation necessary to enable such functionality in configuration of the radios is provided.
Specific integrations (optional)
With VoIPFutura RGA is possible to create applications where the integration  with Radio IP communications is necessary. For example, integrating radio communication with telephony via satellite, sending positioning (if the radio has GPS), data or signals transmission, etc. In these cases consult Mildmac to assess the technical feasibility and the effort for developing such applications.
ARCHITECTURE
STATION
It's the radio that connects to its assigned frequency devices.
RGA (ROIP GATEWAY ADAPTER)
It is the device that physically controls the station and allows its recognition in the VoipFutura PBX.
CUSTOMER VOIP PBX
It is the unit that allows access to the outside radio broadcasters world and connect standard calls with the various integrated stations. Communication between ROIP platform and VOIP PBX will be made by IAXS or SIP protocols.
Information request
Information request
For any commercial enquiries or pre-sales, please, call +34 91 501 33 02 or fill in this form.
We will contact you as soon as possible: